Business Values
Values are our compass for the way we live our lives and the choices we make. Values indeed guide our every decision and when you know what is absolutely most important to you, decision making becomes effortless.
Values in our business form the compass for every decision we make and sets the framework and standards for our team to work within.
Values capture the states we wish to experience on a consistent basis. When we find it difficult to make a decision, the reason for the difficulty is most likely that we are unclear about what we value most within the situation. Think about this in the context of managing the performance of your team.
'Nothing splendid has ever been achieved except by those who dared believe that something inside of them was superior to circumstance'.

Bruce Barton
Examples of Business Values
Some examples of values that align with our vision statements include -
Abundance
Achievement
Adventure
Certainty
Contribution
Connection
Efficiency
Excellence
Freedom
Growth
Happiness
Health
Innovation
Integrity
Learning
Joy
Outstanding Results
Passion
Success
Team
Uniqueness
This is not an exhaustive list, and you may want to add more values to it.
In order to achieve our business success, we must be absolutely be clear about what our values are – and, effectively communicate these to our teams (staff, contractors, suppliers, referral partners etc.).
Many businesses operate wishing, waiting and hoping that things will all work out … or worse,
It is easy to have values and then forget about them when a decision is to be made, and this creates confusion and inconsistency in your business, which then flows through your whole team. Imagine what it would feel like as a customer confronting inconsistency, uncertainty and lack of congruence when dealing with a business.
The key to success – no matter how tough the going gets - is to operate by your values. Live and work congruently with your values, and your team will too.
You will never look back with pride or care for the moments you traded your values for the easy ride of convenience.
Identifying Business Values using Spiral Dynamics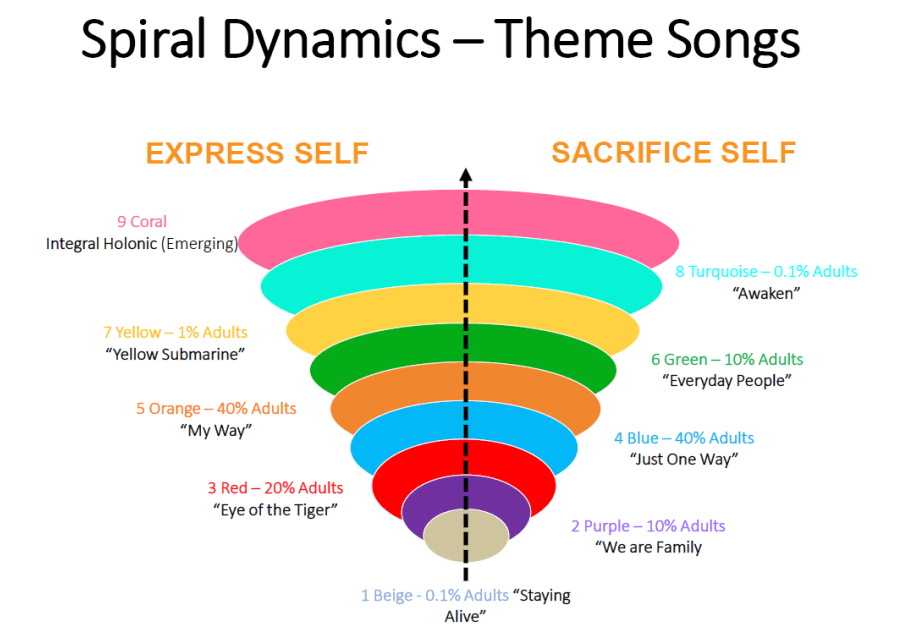 Spiral Dynamics is based on the work of Clare Graves and Don Edward Beck.
Values in a Win-Win Culture
This culture best aligns with level 6 of Spiral Dynamics (Green) – reaching decisions through concensus, promoting a sense of community and caring, embracing diversity, multiculturalism, gender equity and doing away with hierarchies.
Trust, loyalty and commitment would be values you would expect to find in a win-win culture. A partnership succeeds when both parties work for their common good, resulting in a negotiation that enables all parties to grow and to reach their full potential.
Values in a Win-Lose Culture
This culture could align with levels 3, 4 and 5 of Spiral Dynamics (Red, Blue and Orange) – acting in your own self-interest by playing to "win the game" - a marketplace full of possibilities and opportunities. The negotiation has a pre-determined outcome, under the control of one party, i.e., there is a right way and a wrong way. "It's my way or the highway" where only the strongest and most cunning survive.
In this culture, competition is the primary value and is seen as the driver of enhanced performance. Playing one party against another is considered good business. The goal is to gain the upper hand and win at all costs.
A company with this culture tends to communicate with its employees less frequently, provides less information or holds back information.
Competition, survival of the fittest, guilt and fear would be values you could find in this culture. Trust is low and there may be a high degree of fear, suspicion, and a high turnover.
Values in a Lose-Win Culture
This culture may align with levels 1, 2 and perhaps 3 of Spiral Dynamics (Beige, Purple and Red) – relying on instincts and survival, belonging to the tribe. Level 3 may be relevant if our teams (staff, contractors, suppliers, referral partners etc.) are putting their own needs without regard for the business needs. "I don't agree with that plan, I'm doing it my way".
Trust is low. People in this culture may be secretive, unreliable, say what they think the tribe wants to hear, but do it their way anyway. In this situation, there is no effective leadership and accountability. More time is spent figuring out how to get things approved than completing the work at hand, and more time is spent figuring out the political implications of doing something than doing what is best. 
Self-preservation, cunning, power and fear are all values you could expect to find in a Lose-Win culture.
Values in a Lose-Lose Culture
This culture aligns with Level 1 of Sprial Dynamics (Beige) where it is a constant battle simply to survive.
In business, parties spend all their time trying to out-negotiate each other, the result being that everybody loses. Or, if one of the parties comes out noticeably ahead, this leads to jealousy and resentment.
Trust is low or non-existent, the parties are risk-averse and withdrawn into themselves. They may spend more time justifying previous actions than adding value to the business. There may be a high degree of fear, suspicion, absenteeism, low job satisfaction, decreased commitment, and high turnover.
Fear, power and guile are the common values associated with a lose-lose culture.
How to identify a Business Culture
What would be the topics of conversation you would hear in a -
| | |
| --- | --- |
| Win-Win Culture |   |
| Win-Lose Culture |   |
| Lose-Win Culture |   |
| Lose-Lose Culture |   |
What would be the performance management conversations in a –
| | |
| --- | --- |
| Win-Win Culture |   |
| Win-Lose Culture |   |
| Lose-Win Culture |   |
| Lose-Lose Culture |   |
What would the performance management structure be? (for example, catching people out versus comprehensive documented professional development plans?) 
| | |
| --- | --- |
| Win-Win Culture |   |
| Win-Lose Culture |   |
| Lose-Win Culture |   |
| Lose-Lose Culture |   |
What would the budget/financial operations of the business be like?
| | |
| --- | --- |
| Win-Win Culture |   |
| Win-Lose Culture |   |
| Lose-Win Culture |   |
| Lose-Lose Culture |   |
Leave your answers in the comments section below.
Joanne Clark
---
As your trainer, mentor and coach, Joanne brings a wealth of experience and commitment to supporting people to achieve their full potential.
With senior management experience leading and managing large teams in business, government and community, Joanne has mastered and applied her transformational leadership model to inspire and motivate teams and individuals to accomplish and deliver outstanding results and achieve their dreams.
Certified Trainer of NLP; Master Practitioner NLP, Hypnotherapy & Matrix Therapies; Performance Coach; Cert IV Coaching; Advanced Practitioner in Coaching; Cert IV in Business; BA(Hons); Majors in Sociology and Psychology; Parent Education Leadership Training (PELT) Certificate; Mother of four children; Private Pilot (PPL); Diploma in Life Coaching